Bee Jays Bury Bat Cats
Brock Kappelmann - June 14, 2020 6:40 am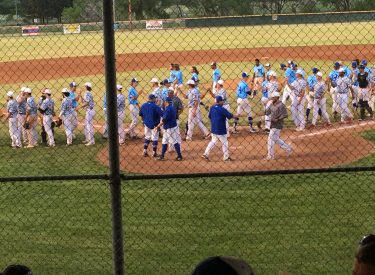 The Liberal Bee Jays scored seven in the first on their way to an 18-3 win over the Great Bend Bat Cats Saturday night at Al Burns Field in Great Bend.  The game went eight innings.
Great Bend walked the first three hitters and four of the first five.  Wyatt Grant singled home a run and Wilson Ehrhardt walked with the bases loaded.  Aidan Shepardson singled home a run.  Jake Schulz doubled home a run. Caeden Trenkle doubled home a run.  Great Bend scored a run in the first.  Bryce Donavan singled to lead off the third and scored on a Schulz sac fly.  Grant walked and Ehrhardt doubled to lead off what  would be a four run fourth.  Shepardson singled home two and Schulz singled home two to make it 12-1. The Bat Cats scored two in the fourth to make it 12-3. Liberal scored four more runs in the seventh and all with two outs. Grant doubled home a run.  Kade Brewer walked with the bases loaded.  Shepardson singled home two more runs. Trenkle tripled to lead off the eighth and White hit a sac fly.
Shepardson went 4-5 with five RBI's and Trenkle was 3-5 with a triple and double. Schulz drove home four runs and was 2-4.
Aaron Funk started the game and went three innings with seven strikeouts.  Calvin Hunt pitched two innings with four strikeouts.  Rafferty Brown logged two scoreless innings with four strikeouts and no walks.  Harris Shoemaker went one scoreless inning.  Liberal struck out 15 Bat Cats.
The Bee Jays win their opening series and are 2-1.  They host the Oklahoma Mudcats Monday night at 7 at Brent Gould Field.  Hornung Funeral Home is the buyout sponsor and admission is free.  Dugout Show at 6:45 on 1270 and kscbnews.net.