Bee Jays Break Through in Hays
KSCB News - June 20, 2013 7:24 am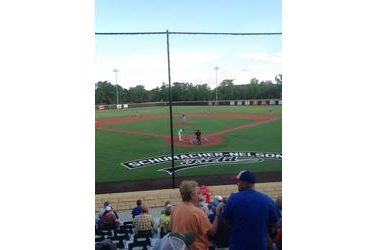 The Liberal Bee Jays received excellent starting pitching this time around. Seward's Tyler Wiedenfeld, who committed to Stephen F. Austin this weekend, pitched six innings of one hit ball in a 6-2 BJ victory at Larks Park in Hays Wednesday night.
The Larks didn't have a hit until the sixth and proved to be mortal with two errors leading to five unearned runs. The Bee Jays scored five in the sixth to break through to a 5-0 lead. With two outs Nicholls State's Seth Stevens lined a single off the second baseman's glove to score Texas State's Lewis Guilbeau who had reached on an error. South Dakota State's Sam Pack drove home two with a single to make it 3-0. Wichita State's Tanner Kirk singled home a run and Guilbeau walked with the axes loaded.
Liberal added a seventh inning run when Kirk singled again. Kirk was 3-3 at the plate.
Liberal is 9-7 and 5-7 in the Jayhawk League while Hays is 14-2 and 10-2 in the Jayhawk.
the Bee Jays host Wellington for a three game series Friday, Saturday, and Sunday nights at 7 on 1270 and kscbnews.net.