Bee Jays Break Out in Dodge City
KSCB News - June 27, 2014 6:43 am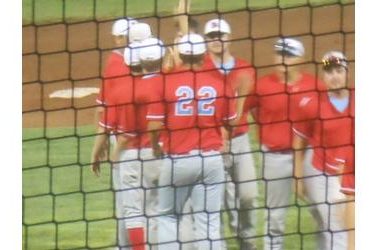 The Liberal Bee Jays scored nine unanswered runs in a 10-3 win at Dodge City Thursday night. The Jays pounded out 15 hits and scored in all but one innings in the win. Two BJ pitchers Justin Schnedler and Brent Cleland held the A's to three runs on six hits.
Zach Reding hit a homer to left center to make it 1-0 BJ's on a night when the wind was gusting out at up to 32 miles per hour. But Dodge City came right back with three runs on two hits and two BJ walks in the second to lead 3-1 against BJ starter Justin Schnedler. Brennan Johnson's two out line drive RBI single to center in the third made it 3-2. The BJ's took the lead in the fourth 4-3 without a hit as Dodge City walked three in the inning. Liberal scored an unearned run in the fifth when Johnson, who had doubled, scored on a throwing error to first on a Robert Dugger single. Liberal scored twice in the sixth to lead 7-3. DC balked home a run and Brady Cox doubled home a run. Dugger beat out an infield single to drive home a run in the seventh to make it 8-3. The DC right fielder couldn't find Seth Stevens fly ball to right so the single drove home a run to make it 9-3. Alex Isaac grounded out in the ninth but drove home his second run of the night. Liberal was aggressive on the bases and Dugger and Kyle Lieser stole two bases a piece.
Schnedler (1-0) went six innings allowing three runs on three hits. Brent Cleland struck out seven in three scoreless innings.
Liberal is 10-10 and 6-10 in the Jayhawk as they move into fourth place. Dodge City is 9-12 and 4-12. Liberal hosts Derby for a three game series beginning Friday night at 7 at Brent Gould Field and airing on 1270 and kscbnews.net. Koochel's is the buyout sponsor.
Wellington edged Derby 4-3 in Derby Thursday night.
Wellington 14-1
Derby 9-5
Hays 8-8
Liberal 6-10
El Dorado 5-10
Dodge City 4-12