Bee Jays Bounce Back vs. Broncos
Brock Kappelmann - July 1, 2017 6:18 am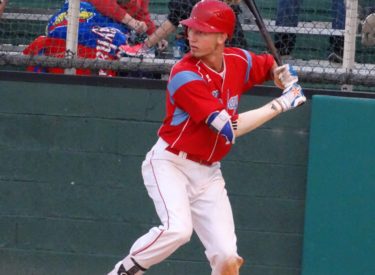 The Liberal Bee Jays have yet to lose two games in a row.  The Jays made sure of that in a 13-5 win over the El Dorado Broncos at Brent Gould Field Friday night.  The BJ's have scored in double digits in six of the past seven games.
Darren Cook pitched five innings allowing five runs in a no-decision.  Caleb Ward picked up the BJ bullpen by pitching four scoreless innings for the win.
The Bee Jays scored in the first when Marcus Shoemaker walked and stole second and later scored on a Cale O'Donnell ground out.  The Broncos took the lead with two in the third with two outs.  Liberal tied in the third as James Hardberger ripped a triple to left center and Zac Cook singled him home to tie the game.  Liberal scored three in the fourth to lead 5-2.  Trent Maloney and Kyle Schmidt singled with one out.  Hardberger hit a sac fly for the 3-2 lead.  Shoemaker reached on an error allowing another run to score and Cook singled home a run for a 5-2 lead.  El Dorado tied the game in the fifth with three runs.  The BJ's blew the game wide open in the sixth with six runs.  Garrett Scott singled and Colton Onstott doubled.  Jaron Robinson was hit by a pitch.  Trent Maloney ripped a two RBI double down the first base line.  Schmidt ripped a double to left center to score two.  With the wind blowing in on a cool night, Hardberger launched an RBI triple off the wall in left.  Shoemaker grounded out to drive home the sixth run in the inning.  Robinson doubled home another BJ run in the eighth.
Liberal out-hit El Dorado 14-10 and the Broncos had four errors.
Liberal remains 1.5 games in front of Hays and is 19-5 overall while the Broncos are 9-16. The same two teams play tonight at 7 at Brent Gould Field with the Dugout Show at 6:45 on 1270 and kscbnews.net.  Southern Pioneer Electric is the buyout sponsor and will give away t shirts and bottled water.