Bee Jays Blank Hays
KSCB News - July 7, 2014 6:49 am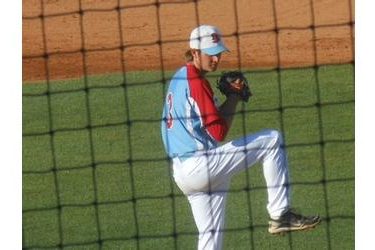 In his last game this summer with the Bee Jays, Austin King delivered. King pitched 6.1 shutout innings and was backed by his bullpen in a 3-0 BJ win over Hays at Brent Gould Field Sunday night. After two years at Seward, King signed a Western Kentucky who didn't want their lefty to pitch any more this summer. So King pitched his last game with the BJ's this season Sunday night.
Hays right hander Nick Goza was up to the task of matching King. Goza pitched seven scoreless innings allowing only two hits during that time before the BJ's broke through in the eighth. Robert Dugger singled with one out before Zach Reding bounced a double to right to score Dugger from first. Reding would score after Kyle Lieser reached on a dropped third strike and the throw from the catcher got away from the first baseman when it hit Lieser. Zach Hoffman singled to left center to score Lieser to make it 3-0.
King pitched 6.1 innings and struck out nine in a no decision. Brent Cleland pitched 1.2 scoreless innings with two strikeouts. Tyler Wiedenfeld pitched a perfect ninth for his third save. Offensively, Reding was 2-4 with an RBI. Liberal won 3-0 but Hays out-hit Liberal 8-5. Six of the Larks' hits came with two outs.
Liberal has won five of their last six and are 16-13 overall and 10-13 in the Jayhawk. Hays is 16-11 and 12-11 in the Jayhawk. The Bee Jays and Larks play Tuesday and Wednesday at Larks Park in Hays on 1270 and kscbnews.net.
In the Jayhawk Sunday night, the Broncos outlasted the Twins 8-7 in 16 innings.
Wellington 19-3
Derby 13-8
Hays 12-11
Liberal 10-13
El Dorado 7-15
Dodge City 6-17