Bee Jays Begin Rocky Mountain Trip with a High
Brock Kappelmann - June 8, 2022 9:56 pm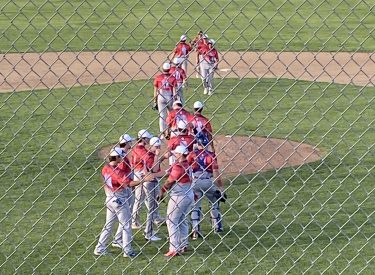 The Liberal Bee Jays began the four day Rocky Mountain Baseball League road trip with a 8-1 win over the Colorado Roughriders in Wheat Ridge on Wednesday evening.  BJ pitching did not allow an earned run and gave up just five hits.
The Bee Jays scored two in the second.  Cooper Hext walked to lead off the inning.  Chance Reisdorph singled.  Zach Yorke, in his first game with the BJ's, double to left center to score a run.  Brett Atkinson grounded out to score a run.  Liberal scored three in the fifth.  Brett Atkinson singled to lead off the inning.  Keaton Grady walked.  Luke Smith doubled off the right field fence to score two runs.  Tyce Armstrong doubled off the center field fence to make it 5-0.  The Roughriders scored an unearned run in the fifth.  The BJ's scored in the eighth.  Caden Hensley singled to lead off the inning.  Zach Yorke ripped a single up the middle to make it 6-1.  Luke Smith and Tyce Armstrong singled to begin the ninth.  Caden Hensley singled up the middle to score two.
Liberal out-hit the Roughridgers 13-5.  The Bee Jays had three errors and the Roughriders had one.
Sean Brady pitched five innings for the win with four strikeouts and no walks.  Jackson Berry and Luke Barbier pitched two shutout innings a piece.  Luke Smith was the Epic Touch Player of the Game making it on base four of five times and going 2-3 with two RBI's and a double.
Liberal is 3-0 and the Colorado Roughriders are 0-4.  The same two teams play Thursday at 5:30 CST with 5:15 pre-game on 1270, 92.3, and The KSCB and The Legend App.