Bee Jays Beat Heat
KSCB News - July 11, 2013 12:24 am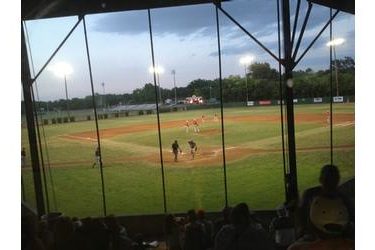 The Liberal Bee Jays built a 6-0 lead on the way to a 6-4 win over the Wellington Heat at Hibbs-Hooten Field Wednesday night. The Big BJ night included two homers in the first and a triple play.
Tanner Kirk led off the game with a homer and two batters later Wigberto Nevarez jacked a two run shot over the left center field wall for a 3-0 lead. Tyler Floyd delivered a three RBI double to right center to make it 3-0 in the third.
The Heat scored two in the third, one in the fifth, and one in the eighth. Wellington loaded the bases with no outs in the fifth when Jon Mestas made a diving catch by the bag at third, touched third for the second out and threw to first for the third out.
Cody Tillotson pitched four innings and allowed two earned runs in four innings. Jack Mabe pitched three scoreless innings for the win. Tyler Buss went two innings for the save and allowed one unearned run.
Nevarez was 3-5 while Tanner Kirk, Brady Capshaw, Tyler Floyd, and Jason Dahl had two hits a piece. Liberal plays again at Wellington Thursday night at 7 on 1270 and kscbnews.net. Liberal is 18-13 overall and 12-13 in the Jayhawk.
El Dorado beat Hays 4-2 in El Dorado and Dodge City won 4-3 at Derby.
Standings
Hays 16-9
El Dorado 16-11
Wellington 14-12
Liberal 12-13
Derby 11-16
Dodge City 8-16