Bee Jays Bash the Bandits
Brock Kappelmann - July 4, 2020 7:26 am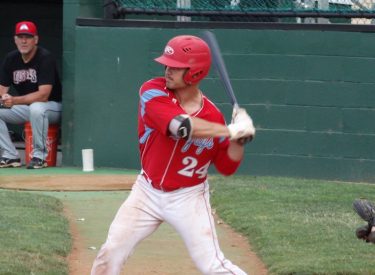 The Liberal Bee Jays run ruled the Colorado Springs Outlaws 12-2 in seven innings Friday night at Brent Gould Field.  Liberal scored in every inning but one in the blowout win.
In the first, Wyatt Grant walked, Cayde Ward and Jack Malone singled, and Bryce Donovan legged out infield single down the third place line to score a run.  AJ Folds and Jake Schulz singled to lead off the second.  Caeden Trenkle hit a sacrifice fly to center.  Kelby Tomlinson singled.  Jack Malone was beaned with the bases loaded and Donovan was walked with the bases loaded for a 4-0 lead.  Colorado Springs scored two in the third on a walk, a bunt single caused by a miscommunication, and a single to right.  AJ Folds laced a double down the left field line to lead off the third.  He would score on an error.  Cayde Ward singled home a run to give the BJ's a 6-2 lead.  Aiden Shepardson singled to lead off the fourth.   Ward singled home two and Jack Malone singled home one.  In the fifth, Tomlinson walked with the bases loaded and Grant singled home a run.
Liberal out hit Colorado Springs 15-3.  Colorado Springs pitching walked 11 and beaned two.  Aaron Funk pitched five innings for the win striking out 11 and walking one.  He allowed two runs.  Rafferty Brown pitched two shutout innings.  Ward was 3-4 with three RBI's.  Trenkle, Malone, and Folds had two hits a piece.
Liberal is 15-2 and Colorado Springs is 9-14.  The same two teams play Saturday night at 7 with the Dugout Show at 6:45 on 1270 and kscbnews.net.  Community Bank is the sponsor of the game and the fireworks show which will follow the game.