Bee Jays and Rattlers Get Together at Brent Gould
Brock Kappelmann - July 24, 2020 7:10 am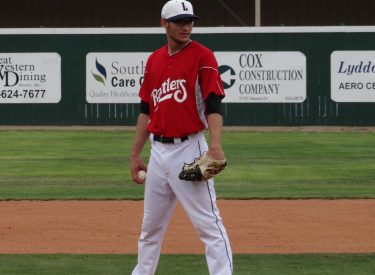 Due to a rainout in the Sunflower Collegiate League, the Great Bend Bat Cats had to cancel their Friday night game against the Bee Jays.  To make up for it,  Bee Jay head coach Eric Olmstead called the 18u Rattlers.  They added college players and former MLB player Kelby Tomlinson and BJ pitching coach Blake Walden.  It was game on.  The Bee Jays won 8-1 but it was more competitive than most of the BJ games have been this season.
Nate White lofted a two run home run to left in the second for a 2-0 lead.  The Bee Jays scored two in the second as Wilson Ehrhardt grounded out to score a run and Wyatt Grant singled home a run.  Javier Bojorquez laced a singled down third to score Tomlinson to get the Rattlers on the board.  Caeden Trenkle ripped a double to right and scored on Jack Malone's single for a 5-1 lead in the bottom of the fourth.  Cayde Ward's bases loaded blast off the wall in left center cleared the bases and made it 8-1.
Kelby Tomlinson pitched for the Rattlers and went five innings allowing five runs with three strikeouts and no walks.  It was Kelby's first time to pitch since pitching for Elgin, Oklahoma High School in 2008.  Blake Walden pitched two shutout innings.  Walden is the BJ pitching coach and pitched at New Mexico JC, Texas State, and New Mexico.  Garrett Bonnett worked three shutout innings with four strikeouts and one walk.  John Kelly went two innings allowing one run.  Calvin Hunt and Eric Heiman worked scoreless innings.
Bee Jays are 25-5 and play the Rattlers Friday at 7 for National Beef Night.  National Beef will be giving away Bee Jay shirts sponsored by NBP, mini bats, and certificates for meat products and other prizes.  Cole Evans will pitch for the Bee Jays against his former team the Rattlers.  Seward pitching coach Austin King will pitch for the Rattlers against his former team the Bee Jays.  The game airs on 1270 and kscbnews.net with the Dugout Show at 6:45.