Bee Jays Allow Three Homers in Loss
Brock Kappelmann - June 24, 2021 7:17 am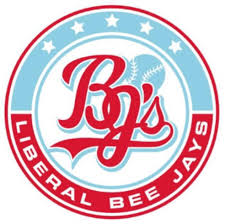 The Liberal Bee Jays tasted defeat for the second time this season.  Wednesday night in Augusta, the Bee Jays allowed three home runs in an 8-7 loss at Rodney Wheeler Stadium in Augusta.  The Bee Jays lost despite out hitting the Kansas Cannons 13-9.
The BJ's scored one in the first and two in the second.  The Cannons scored in the bottom of the second.  The Cannons took command with two in the fourth and four in the fifth to lead the BJ's 7-3 after five.  The BJ's chipped their way back into the game with one in the sixth and one in the seventh before a two run eighth to tie the game 7-7.  But the Cannons scored in the bottom of the eighth to lead 8-7.
Scott Anderson was 4-5 in the loss for the BJ's who had only one extra base hit.  Quintt Landis and Blaine Thomas had two hits a piece.  Landis drove home three runs.  Mathew Davis started the game and went four innings allowing three runs.  Thomas Bartels pitched two scoreless in the loss.
Liberal is 11-2.  This was a non division game in the KCLB.  Liberal returns to Jayhawk play Thursday night with a game at 7 at the Valley Center Mud Daubers.  The game will air on 1270 and kscbnews.net.