Bee Jays Add to Schedule
Brock Kappelmann - June 7, 2022 3:37 pm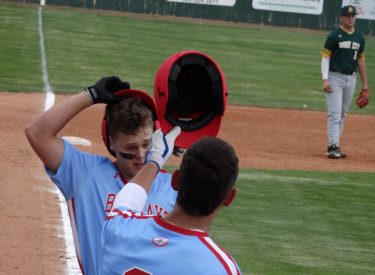 The Liberal Bee jays have made additions to their schedule.
The Bee Jays will travel to Haysville to play the Aviators
on Monday, June 13 and Tuesday, June 14.  The Bee Jays will play games in Edmond
June 19 and 20th at OCU. Liberal plays Oklahoma City Sandlot
on the 19th and the Oklahoma Drillers on June 20.
June 3- Dodge City A's 7pm (1270)
June 4- at Dodge City A's 7pm (1270)
June 8- at Colorado Roughriders 5:30pm (1270)
June 9- at Colorado Roughridgers 5:30pm (1270)
June 10- at Fort Collins Foxes 6:15pm (1270)
June 11- at Fort Collins Foxes 6:15pm (1270)
June 13- at Haysville Aviators
June 14- at Haysville Aviators
June 15- at Dodge City A's 7pm
June 19- vs Oklahoma City Sandlot at Edmond 7pm
June 20- vs Oklahoma Drillers at Edmond
June 22- Hays Larks 7pm (1270)
June 23- Hays Larks 7pm (1270)
June 24- Colorado Springs Outlaws 7pm (1270)
June 25- Colorado Springs Outlaws 7pm (1270)
June 26- Colorado Springs Outlaws 7pm (1270)
June 29- Dodge City A's 7pm (1270)
July 1- Denver Cougars 7pm (1270)
July 2- Denver Cougars 7pm (1270)
July 3- Denver Cougars 7pm (1270)
July 4- Dodge City A's 7pm (1270)
July 5- Colorado Roughriders 7pm (1270)
July 6- Colrado Roughriders 7pm (1270)
July 11- at Colorado Springs Outlaws 5:30pm (1270)
July 12- at Colorado Springs Outlaws 5:30pm (1270)
July 13- at Denver Cougars 5:30 pm (1270)
July 14- at Gameday Angels 8pm (1270)
July 15- at Gameday Angels 8pm (1270)
July 17- Gameday Angels 7pm (1270)
July 18- Gameday Angels 7pm (1270)
July 19- Fort Collins Foxes 7pm (1270)
July 20- Fort Collins Foxes 7pm (1270)
July 21- at Hays Larks 7pm (1270)
July 22- at Hays Larks 7pm (1270)
July 23- at Dodge City 7pm (1270)
July 24- Dodge City 7pm (1270)
July 28-August 6 NBC World Series (1270)