Bee Jays 2-0 in Jayhawk Play with Win at Goddard
Brock Kappelmann - June 9, 2021 6:59 am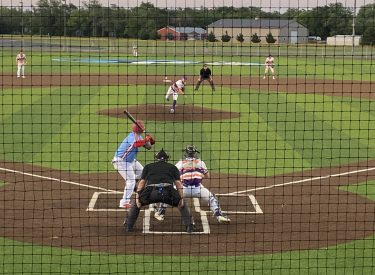 The Liberal Bee Jays have two road wins in the Jayhawk Division of the Kansas Collegiate League after a 10-2 win over the Kansas Curve at Goddard Eisenhower Tuesday night.  The BJ's have 20 Jayhawk games against the Dodge City A's, Kansas Curve, Wichita Dirtbags, and Valley Center Mud Daubers.
The BJ pitching was on point again Tuesday.  Mathew Davis made his BJ debut with three innings allowing two runs.  Cade Citelli pitched 2 and 2/3 scoreless and Jack Hagan went 3 and 1/3 scoreless innings.  The Bee Jays scored four in the second buoyed by five Curve walks.  Quintt Landis led off the inning blooping a single to right.  The Curve walked five straight and Elijah McCarter, AJ Folds, and Cason Gregory had RBI's with bases loaded walks.  Cayde Ward lofted a sacrifice fly to left for the 4-0 lead.  The Curve scored a run in the second after two passed balls.  They added a run in the third after a HBP and a double to make it 4-2.  That score stood until the sixth when Cason Gregory ripped a triple to right center to drive home a run.  He scored on Wyatt Grant's line drive single to center for the 6-2 lead in the sixth.  The Curve committed three errors in the eighth.  Ward blasted a three run homer to left in the inning for the BJ's third homer of the season.  Liberal out hit the Curve 8-4.  The Curve had four errors and the BJ's had one.
The Bee Jays are 3-0 overall and 2-0 in the Jayhawk Division of the Kansas Collegiate League.  The Curve are 5-2 and 0-1 in the Jayhawk Division.