Bee Jay Season Ends as Rally Fizzles
Brock Kappelmann - August 1, 2018 6:58 am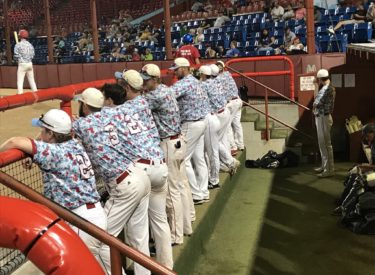 The Liberal Bee Jays had runners on second and third with no outs in a 4-3 game. But they didn't score. And with that, a season which gave hints of promise faded away in a 4-3 loss to the Centex League's San Antonio Angels late Wednesday night into a Thursday morning at Lawrence Dumont Stadium in Wichita. It marks the first time the Bee Jays couldn't make it out of the "first week" format of he NBC. It was likely the final game at Lawrence Dumont Stadium for a program which has won five NBC title in five different decades.
The Angels jumped on the Bee Jays for two in the first. They scored two on starter Jake Hamilton after one error, one hit, and three walks. The Angels scored two more in the fifth. Liberal scored two in the seventh. Clint Allen singled to right but the ball got by the right fielder allowing Nick Thornquist to score. Allen scored on a Dylan Paul single. Jack Krauel walked and Thornquist singled to begin the ninth. Allen ripped a double down the right field line to score pinch runner Blake Brewster. But Liberal would not score again in 2018 despite the fact there were no outs with runners on second and third. They did not try to score on a bounding ground ball to first. Then a walk loaded the bases with one out but the last two BJ's struck out to end the season. Liberal out hit San Antonio 7-6 but made three errors to the one Angel miscue.
Hamilton pitched 3 and 1/3 allowingvtwo runs and striking out six but walking five. Newcomer Jared Scott pitched 4 and 1/3 allowing two.
Liberal finishes 25-19. The Bee Jays have lost five of their last six at the NBC. The Angels win the pool and are 21-12.