Bee Jay Rally Falls Short in Hays
Brock Kappelmann - June 28, 2019 10:45 pm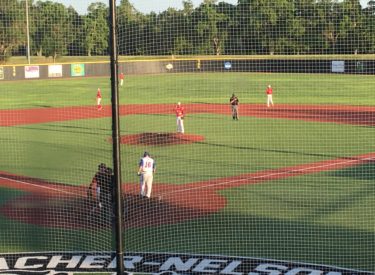 The Hays Larks won the first game of a key four game series at Larks Park in Hays Friday night. Hays built a 6-0 lead before Liberal rallied for five in the ninth but lost 6-5 to the Larks.
Payton Strambler pitched seven solid innings for the BJ's. He struck out six and allowed three runs.
Hays scored one in the second and two in the third to lead 3-0.  The Larks scores three in the  eighth on a three RBI double by Wyatt Divis for a 6-0 lead.  The two day BJ offensive swoon spanned 16 scoreless innings.  Liberal finally awoke offensively in the ninth. Corbin Truslow, Brandon Holdren, and Trevor Beard singled. Trevor MacDonald walked with the bases loaded to make it 6-1. Colton Moore grounded out to first to make it 6-2.  Tristan Stacy's infield single made it 6-3.  Jordan Williams ripped a two RBI double to left center to make it 6-5.
Hays out hit Liberal 13-8.  The Bee Jays has the only three errors.
Hays is 19-4 overall, 18-3 in the KCLB, and 6-3 in the Jayhawk Division.  Liberal is 15-8 overall, 13-8 in the KCLB, and 5-4 in the Jayhawk Division.  The same two teams play Saturday night at 7 with the Dugout Show at 6:45 on 1270 and kscbnews.net.