Bee Jay Pitching Shines in Sweep Over Western Nebraska
Brock Kappelmann - July 26, 2023 7:13 am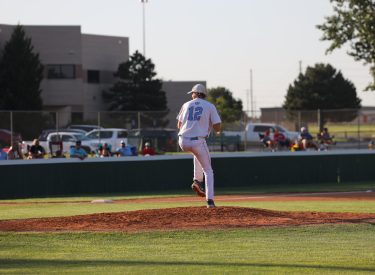 The Liberal Bee Jays swept the Western Nebraska Pioneers 4-1 and 4-2 Tuesday night at Brent Gould Field.  The Bee Jays did not have to use their bullpen as both starters pitched complete games.  Tristin Crusenberry solidified his role as staff ace improving to 5-0 and Holden Carpenter went the distance in game two.
In game one, Liberal scored first.  Owen May whistled a double over the center fielder's head for a 1-0 lead in the third.  The Pioneers scored their run in the fourth to tie it.  In the bottom of the fourth, Mateo Garcia singled and Nick Husovsky doubled.  River Jackson hit a sac fly.  Derek Lukes doubled home a run.  In the sixth, Nick Husovsky slugged his third home run of the year for an insurance run.  Tristin Crusenberry struck out 11 and did not issue a walk and was Epic Touch Player of the game.  Western Nebraska out-hit Liberal 8-6.
In game two, Western Nebraska chased home a second inning run.  Liberal scored two in the second.  Owen Barger blooped an RBI double to right.  Ryota Kusumoto singled home a run on a ground ball of the glove of a diving first baseman.  A potential third run was thrown out a home.  Justin Hudson ripped a two run home run to left in the third for a 4-1 lead.  The Pioneers scored in the sixth.   Holden Carpenter was the Epic Touch Player of the Game pitching all seven innings with nine strikeouts and three walks.  Both teams had six hits.
Western Nebraska has dropped five straight and falls to 26-14.  Liberal is 24-10 and 12-1 at Brent Gould Field.
Awards were handed out as Walker Polk was named MVP.  Kyle and Kylee Hammel are Bob Carlile Fan of the Year.  Kelly Kirk was named B.J. Director of the Year.  Host families were recognized in between games.
The Bee Jays play at Great Bend Wednesday and Thursday nights at 7pm with coverage at 6:45 both nights on 1270 and 92.3.