Bee Jay Opportunities Disappear into Thin Air
Brock Kappelmann - June 20, 2023 12:08 am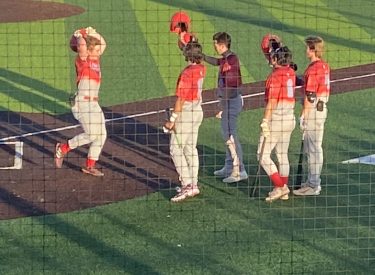 The Liberal Bee Jay opportunities to win a Rocky Mountain League game seemingly disappeared into the thin Rocky Mountain air Monday night in downtown Denver.  The B.J.'s stranded 14 runners on base in a frustrating 9-8 loss to the Denver Cougars at the Regency Athletic Complex at Metro State in Denver.  The B.J.'s walked three straight hitters to lose in a walk off walk.
The Bee Jays scored two runs in the third to begin the scoring.  Silas Shafer hit a fly ball to left field which was lost in the sun to score two runs.  The Cougars scored five runs on four hits in the fourth to lead 5-2.  In thew top of the fifth, Liberal scored four runs.  Walker Polk doubled to lead off the inning.  Mateo Garcia doubled him home to make it 5-3.  Silas Shafer singled.  Colden Kiser slammed a three run home run to left for the 6-5 lead.   Denver scored two in the fifth to lead 7-6.  The B.J.'s scored in the sixth without a hit to tie it at 7-7.  Denver scored in the seventh to lead 8-7.  Colden Kiser's two out RBI single in the eighth tied the game 8-8.  Denver won it in the bottom of the ninth after a lead off double followed by three straight two out walks.
Liberal out-hit Denver 14-11.  Denver committed four errors.  Colden Kiser was 2-5 with four RBI's.  Walker Polk was 3-5.
Denver is 8-5 overall and 7-4 in the Rocky Mountain Baseball League.  Liberal is 7-3 overall and 3-1 in the Rocky Mountain.  The same two teams play Tuesday night at 7:30 cst in Denver.  Pre-game at 7:15 on 1270 and 92.3.