Beaver's Bobek Lands UCO Job
KSCB News - January 5, 2012 7:11 am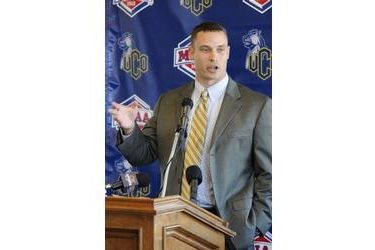 Nick Bobeck became Central Oklahoma's 13th head football coach on Jan. 4 and came to the Bronchos after a sparkling four-year stint as head coach at junior college powerhouse Navarro (Texas) College.
Bobeck, who played at UCO and then was a graduate assistant coach for the Bronchos, compiled a sensational 42-5 record at Navarro. The Bulldogs won the 2010 national championship along with three regular-season Southwest Junior College Football Conference (SWJCFC) titles during his tenure there.
"I'm extremely excited about the new chapter about to begin here at the University of Central Oklahoma," Bobeck said. "I'm very proud to be here because not many people get the chance to come back to their alma mater. I have two degrees from here and they hang on my wall every day."
Bobeck was a four-year letterman and two-year starter at fullback for UCO from 1999-02, earning first-team All-Lone Star Conference North Division honors as a senior.
He stayed on with the Bronchos as a graduate assistant coach the next three seasons, helping UCO go 20-12 during that stint while making the NCAA Division II playoffs in 2003.
Bobeck went to Texas A&M as an offensive line coach in 2006 when the Aggies finished 9-4 and earned a berth in the Holiday Bowl. He moved on to Navarro the following season and served as offensive coordinator in 2007 when the Bulldogs went 9-3 and won the conference crown.
Nick took over as head coach the next year, with his first squad finishing 10-1 and ranked fourth in the final poll. An 11-1 campaign and No. 3 ranking followed in 2009.
Bobeck and the Bulldogs put it all together in 2010, following a season-opening loss with 11 consecutive wins to finish 11-1 and capture the NJCAA national championship. Navarro was 10-2 this past season, finishing fifth in the final ranking.
UCO ranks among the Division II leaders in all-time wins with 593 and the two-time national champion Bronchos will begin play in the rugged Mid-America Intercollegiate Athletics Association in 2012 after playing last season as an independent. MIAA member Pittsburg State won the Division II national title in 2011.
Nick and his wife, Keely, are expecting their first child (a boy) in April.