Beaver OK Man Dies in Two Vehicle Accident
Joe Denoyer - December 11, 2019 9:24 pm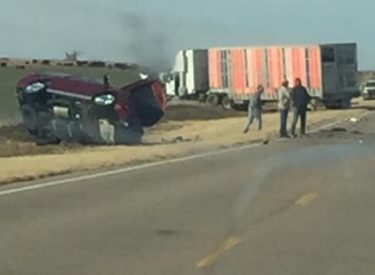 A two vehicle fatality collision occurred Wednesday morning at 10:15am on US Highway 64 approximately 4.2 miles
west of Forgan, OK in Beaver County.
 
A 2017 Ford Expedition being driven by Michael J Smith, 72, of Beaver, OK, was heading east on US 64, while a 2017 Kenworth driven by Alejandro Perez, 41, of Liberal, KS.  was westbound on US64. For an unknown reason, Smith crossed the centerline and struck the semi
head on. 
Perez swerved to the right in an effort to avoid impact, partially leaving the roadway upon impact.  The Kenworth continued traveling west, re-entered the highway, crossed the center line before departing road to the left and striking ditch, coming to rest on its wheels. 
After impact, the Expedition rotated one complete revolution as it left the road and struck the ditch, overturned ¾ of a time coming to rest on the driver's side.  Smith was partially ejected from his vehicle during the collision. Smith was pronounced dead at the scene from injuries sustained in the
collision.  He was taken to Clark's Funeral Home in Beaver, OK for the Medical Examiner.
 
Perez was transported by Beaver County EMS to Beaver County Memorial Hospital where he was treated and released.