Beavers Carve Up Saints in Jayhawk Opener
Brock Kappelmann - November 17, 2022 7:04 am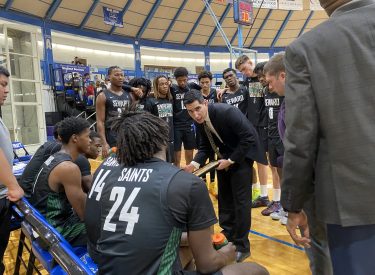 Seward's defense was non existent in a 97-89 loss to the Pratt Beavers in the Pratt Beaver Dome Wednesday night.  Pratt gashed the Saints for 55 percent shooting and shot 59 percent in the second half.  Seward's defensive rotation was slow allowing multiple Pratt lay ups and dunks.
Pratt jumped out to leads of 28-23, 34-27, 36-28, 42-28, and led 43-33 at halftime.  The Beavers led by as many as 19 at 54-35.  Seward rallied to trail 87-82 but a Pratt three point play sealed the Beaver victory over SCCC in Pratt for the third time in four years.
Seward had decent night offensively shooting 40 percent and making 9-25 three pointers for 36 percent.  Seward misfired at the foul line at 18-29 for 62 percent.  Pratt shot 55 percent from the field and was 6-14 from three and 19-26 at the foul line.  KJCCC Player of the Week Mario Whitley had 22 points and eight rebounds.  Jaylin Henderson had 19 points, nine rebounds, and six assists.  Wilson Dubinsky had 14 and Blessin Kimble had 13 points and eight rebounds.
Seward is 3-1 and 0-1 in the Jayhawk and Pratt is 4-2 and 1-0.  Seward hosts Butler Saturday at 4pm in the Green House on B107.5.  Pizza Hut is the buyout sponsor.