Beaver Back with Young Team and New Coach
Brock Kappelmann - August 17, 2023 12:41 pm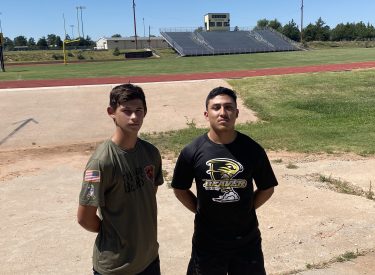 The Beaver Dusters will have lots of familiar faces on the field this fall.  They return six starters on both sides of the ball from a winless team last year.  But they have their sixth different head coach in the past eight years.  Russ Radford will lead the Duster on the gridiron this fall.  He comes from an assistant coaching job at Clinton.  The Laverne native liked the idea of returning back to his home area.
The Dusters don't have much depth with just 14 out for football.  There is only one senior remaining in football as a bi-product for all the turnover in Beaver City.
Some of the key Dusters are Jr. TB/LB Hunter Hampton, Jr. FB/LB Adrian Montoya, Sr. WR/DB Ramon Flores, Jr. QB Kobe Stafford, So. OL/DL Christian Slattan, and Jr. OL/DL Kaden Golightly.
Beaver was featured during the Sportsguys on Thursday morning.
Schedule
August 25- at Cherokee
September 1- Sharon-Mutual
September 8- at Buffalo
September 15- Tyrone (homecoming)
September 22- at Okeene
October 5- at Turpin
October 12- Hollis
October 20- Laverne
October 27- at Balko-Forgan (102.7)
November 3- Shattuck