Beard's Big Hit Lifts Liberal
Brock Kappelmann - June 24, 2019 7:11 am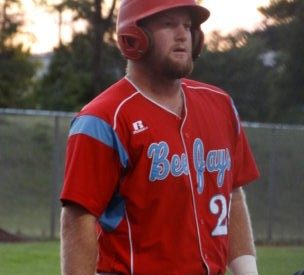 The Liberal Bee Jays rallied to defeat the Dodge City A's 4-3
Sunday night at Dodge City's Cavalier Field. The game was
played with the wind blowing in and temperatures in the 60's.
Jon Sotto was solid for the Bee Jays. Sotto worked six innings
striking out four with one walk. Jake Reed pitched three innings
for the win.
Dodge City scored a run in the first for the lead. BJ opponents
have scored in the first in eight of the past 11 games against
Liberal. The BJ's tied the game in the second. Corbin Truslow
smacked a single to left. Shane Sirdashney was beaned. The runners
advanced to second and third on a wild pitch. Aiden Shepardson
hit a spinning ground ball down the first base line to score
Truslow. The A's added runs in the third and seventh for the 3-1
lead. The Bee Jays loaded the bases in the eight. Trevor Beard
lined a 3-2 pitch with two outs to right field. The A's right fielder
misplayed the ball into a three RBI double for Beard.
Liberal is 13-6 overall, 12-6 in the KCLB, and 4-2 in the Jayhawk Division.
Dodge City is 11-7 and 1-5 in the Jayhawk.
Monday night, Liberal hosts US Military Baseball. There will be a home run
derby at 7 and game at 7:35. . The US Military Baseball Organization is
composed of civilian, military dependents, veterans, Army, Navy, Airforce
and service members of the US Marine Corps. Billy's Ayr Lanes is the buyout
sponsor.