Battle of the Blowouts
KSCB News - June 24, 2011 7:18 am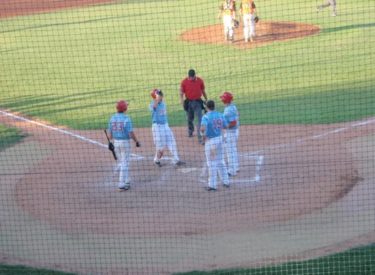 After El Dorado blew out Liberal 13-2 Tuesday night, the Liberal Bee Jays won the next two nights by a combined 29-7 including a 17-3 BJ win Thursday night at Brent Gould Field. The Bee Jays scored two in the first, one in the second, seven in the third, three in the fourth, and four in the sixth.
Angelo State's Toby Semler was 2-4 with a three run homer and a double. Semler's homer was his second of the season. Lubbock Christian's Richard Bohlken was 3-5 with a double and an RBI. Seward's Jake Barrios had his first three hit game going 3-4 with two RBI's. Nicholls State's Blake Bergeron was 2-3 with three RBI's.
Wichita State's Josh Smith (3-0) pitched six solid innings for the win. He allowed one earned run. John Woods right hander Curtis Washburn pitched three scoreless innings.
Liberal is 14-5 overall and 7-5 in the Jayhawk. El Dorado falls to 6-13 overall and 4-11 in the Jayhawk. Liberal travels to Hays to play the Larks Saturday and Sunday nights at 7 p.m. The games air on Talkradio 1270 and kscbnews.net.