Barton Walks Off Twice on Saints
Brock Kappelmann - April 14, 2017 9:08 pm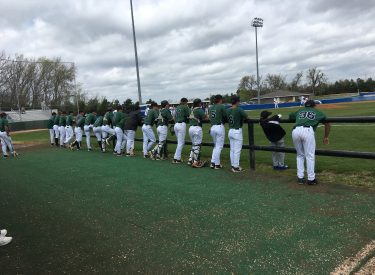 The Barton Cougars celebrated two walk off wins over the visiting Seward County Saints Friday afternoon. The Cougars took game one 4-3 in eight innings and won game two 17-7 in a run rule which went six innings.
Jared Biddy pitched a complete game in tough luck game one loss. With up to 45 mile per hour wind gusts howling out to left at Barton's Lawson-Biggs Field, Biddy allowed four runs on five hits. Barton scored two in the first. The Saints scored in the he third when Brendan Madsen doubled and scored on an error. Tim Fitzgerald doubled to lead off the fifth and scored on an Erett Edwards single to tie the game. SCCC took the 3-2 lead in the sixth when Brian Tims doubled and scored on a Cody Stineman single. Barton tied it in the sixth with a Kaden Fowler homer and won it with a mammoth homer by Michael Sinks in the bottom of the eighth.
Barton scored two in a he first and the second of game two. SCCC scored one in the third when Owen Martin doubled and scored on a Tims single. Seward scored two goals in the fourth to make it 4-3. Madsen hit a sac fly and Edwards singled home a run. But the Cougars roared in the fourth scoring eight. After one run and two outs, the next eight hitters reached base. Barton plates eight runs on nine hits in the inning to lead 12-3. Seward got a lead off double f on Addison Kaasch to lead off the fifth. Nielsen then singled and both scored on an error. Madsen singled home a run and another run scored in a Barton error to make it 12-7. Barton scored two in the fifth to lead 14-7 and Dawson Pomeroy launched a three run shot to center in the sixth to end it early.
The Saints fall to 16-26 and 9-13 in the Jayhawk West. Barton is 31-13 and 13-9. Barton hosts Seward Saturday at Great Bend. The games have been moved up to 11 because it might rain. The Saints Dugout Show begins at 10:45 on 1270 and kscbnews.net.