Barton Too Much for Saints
Brock Kappelmann - February 19, 2023 10:13 am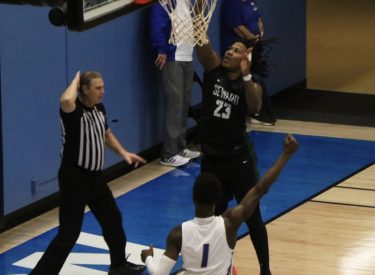 Seward County won the first round with the Barton Cougars but not the second round.  After a win over the Cougars in January in Liberal, the Saints fell to Barton in the Cougar's den 74-57 Saturday afternoon and evening.
Barton led 37-31 at halftime and out scored the Saints 37-26 in the second half.
The Saints, who are last in the KJCCC in field goal percentage, didn't do anything to help that trend on Saturday.  They shot 37 percent.  Seward was 3-12 from three and 16-24 at the foul line.  Barton shot 41 percent from the field.  They were 8-30 from three and 12-17 from the foul line.  Seward committed 19 turnovers in the loss while Barton had nine turnovers.
Jaylin Henderson scored 15 in the loss.  Blessin Kimble had 14 points and 17 rebounds.  Mario Whitley had 12 points.
Seward falls to 13-15 overall and 9-13 in the Jayhawk.  Barton is 19-8 overall and 14-7 in the Jayhawk.  Seward hosts Hutchinson Wednesday night at 8pm in the Green House for sophomore night.  The game will air on 107.5.  Sharp McQueen PA is the buyout sponsor.