Barton Lights Up Lady Saints
Brock Kappelmann - November 22, 2017 7:25 am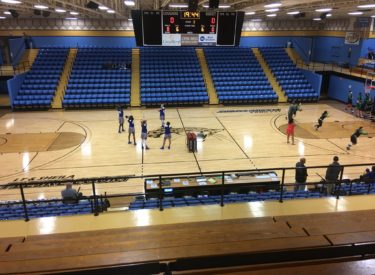 Seward just couldn't stop Barton.  The Lady Cougars made 49 of their shots and 7-14 of their three pointers on the way to shocking #8 Seward 89-80 Tuesday night at the Kirkman Center in Great Bend.
Seward lost this game in the first quarter as the Lady Cougars outscored the Lady Saints 20-5.  Seward trailed 45-33 at the half.  Barton's Mallory Miller was 10-13 from the field and 6-7 from three point range for 27 points.  Meade's Jaylin Stapleton had 23 points.
The Lady Saints shot just 39 percent and were out rebounded 47-26.  One year after scoring 30 at Barton, Mollie Mounsey had 19.  Amy Scott scored 16 and was 4-8 from downtown.  Lexi Hernandez had 11.
The loss snaps a six game winning streak against Barton.  It's the first loss at Great Bend since 2011.  The 89 points is the most allowed by a Seward team since allowing 90 to Hutchinson in 2013.
Seward is 5-1 and 3-1 in the Jayhawk and Barton is 6-2 and 3-1.  The Lady Saints host Pratt in the Green House Saturday night at 6 with Saints Shoot-around at 5:45 on 107.5 and kscbnews.net.  Hampton Inn is the game sponsor.