Lady Saints Foiled at the Foul Line in Loss to Barton
Brock Kappelmann - January 5, 2023 6:41 am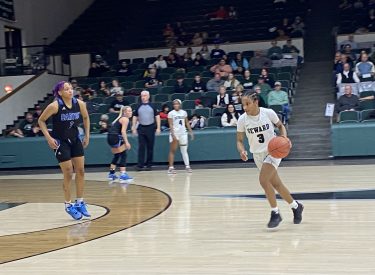 For the first time since 2009, the Seward Lady Saints lost a home game to Barton.  The #22 Lady Cougars were able to sneak out of the Green House with a 60-57 victory.  Seward had won 13 in a row at home over Barton.  Barton won the game at the foul line going 13-13 while Seward was 4-5.
Barton led for most of the game.  Barton led 18-11 after one quarter.  The Lady Cougars led 25-15 and led 34-27 at halftime. Seward chipped into the Barton lead in the third quarter out scoring Barton 17-13 in the quarter.  SCCC cut the lead to 39-37 and 45-44 and trailed 47-44 after three quarters.  A De'Shawnti Thomas bucked tied the game a 49-49.  Seward took the lead 53-51 with 3:20 to play.  Seward led 55-51 with 1:35 remaining.   Barton took the lead back 56-55 with 44.8 seconds left.  Barton led 58-55 before a technical was called against a Barton player.  Kylee Hunt sunk both free throws to make it 58-57 and the Lady Saints had the ball.  But they did not score again.
The difference in the game was at the foul line.  Barton was 13-13 and Seward was 4-5.  Seward shot 40 percent and Barton shot 36 percent.  Seward was 5-14 from three and Barton was 5-18.  Barton out rebounded SCCC 39-34.  Barton committed 16 turnovers and SCCC had 14 turnovers.
Kylee Hunt was the Epic Touch Player of the Game with 17 points for her season high.  De'Shawnti Thomas had 10 points and 10 rebounds.
Seward falls to 9-7 overall and 7-3 in the Jayhawk.  Barton is 13-2 overall and 7-2 in the Jayhawk.  The Lady Saints play at Hutchinson Saturday at 5:30 with Saints Shoot-around at 5:15 on 107.5.