Barton Buries Seward
Brock Kappelmann - January 6, 2022 6:58 am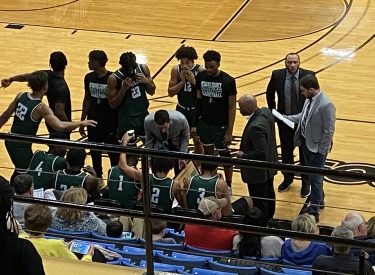 It was never a close game.  The Barton Cougars jumped out early on the Seward County Saints and never looked back in a 92-66 blowout at the Kirkman Center in Great Bend on a snowy Wednesday night.  It was the first Jayhawk Conference game back from the break.
The Cougars jumped out to first half leads of 12-3, 27-10, 34-12, 41-14, and 47-17 before a 48-25 Barton lead at the half.  Barton's biggest lead was 31 points.
The Cougars scorched the Saints defense to the tune of 58 percent from the field.  Barton made 11-22 three pointers.  Seward struggled to find the bottom at a 31 percent clip.  Barton bullied the Saints on the board 49-30.  The anomaly on the stat sheet was at the foul line where SCCC was 22-35 in a blowout loss while Barton was 11-21.
One season after scoring 28 in a big win at Barton, Erik Pratt scored 29.  He was the only Saint in double digits.
Seward is 7-8 overall and 4-5 in the Jayhawk while Barton is 7-8 and 3-6.  Seward hosts Hutchinson Saturday night at 8 on 107.5 and The KSCB and The Legend App.  Billy's Ayr Lanes is the game sponsor.