Baker Arts Center Invites Public to Come Uncorked
KSCB News - February 23, 2011 10:52 am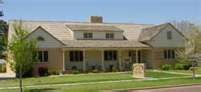 Baker Arts Center Invites Public to "Come Uncorked" Volunteers at the Baker Arts Center will be pulling the corks on about 20 different wines for a tasting fundraiser on Saturday, March 5, 2011.
"Come Uncorked" begins at 7:00 p.m. at the Center, where tickets are on sale now. Rafter J Liquor and Glazer's Distributors are sponsoring and assisting with the fundraiser. Musical entertainment, hors d'oeuvres, door prizes, favors, and a silent auction will add to the festivities.The 22nd Annual Area High School Show will be on display for view during the tasting.
Other sponsors include: Yoland & Monique Bailey, Collins Diamonds, Heritage Real Estate, Larry & Saundra Koochel, Nathan McCaffrey, Kerry & Juneil McQueen, Dr. Assad & Veronica Zainali & private sponsors.
Tickets are available at the Center for $15 for members and $20 for nonmembers. Tickets will be available at the door for $5 more and all guests must be at least 21 years of age to enter.
Tickets and more information is available by calling Baker Arts Center at 620.624.2810, emailing [email protected], stopping by 624 N Pershing Ave in Liberal, KS, or visiting the website at www.bakerartscenter.org.