Baker Arts Center Host Juried Art Show
KSCB News - April 13, 2011 8:24 am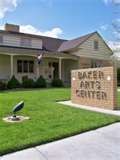 Juror, Laurence Bradshaw, professor of Art and Art History at the University of Nebraska, Omaha has selected 73 works of art created by 45 artists from 18 states to be exhibited in the Baker Arts Center's 13th National Juried Art Exhibition. This year's show will include artwork showing great diversity in materials, techniques, and styles among the two and three-dimensional and photographic categories.
This exhibit was sponsored in part by City of Liberal, First National Bank, Windtree Management and Leasing, and private sponsors. The Center also receives operational support from the Kansas Arts Commission and the National Endowment for the Arts.
This exhibit opens with a private reception for the artists, their guests, and members on April 16th and will be open to the public on April 19th. Gallery hours are Tuesday through Friday 9:00-12:00 & 1:00-5:00, 2:00 to 5:00 on Saturdays, closed Sunday and Monday. Artworks will be on display through June 4, 2011.
The following artists will be competing for $7,600 in prize money:
Walt Curlee, Phenix City, AL Wayne Morgan, Hays, KS
Ron Baker, Jacksonville, AL Gordon Sherman, Hays, KS
Delmar Guidinger, Santa Rosa, CA Brian McCallum, Garden City, KS
Ching Ching Cheng, Altadena, CA Lonny V. Matlock, Girard, KS
James Vogel, Petaluma, CA Herbert Friedson, Lawrence, KS
Sheldon Steinhauser, Denver, CO Marydorsey Wanless, Topeka, KS
Ronnie Cramer, Denver, CO Dan Kirchhefer, Topeka, KS
Stanley Scott, Fort Collins, CO Jeani Gustafson, Ulysses, KS
Paul Morris, Fort Collins, CO Michael Elliott-Smith, Alexandria, LA
Heather Oelklaus, Colorado Springs, CO Leslie Elliottsmith, Alexandria, LA
Hyun Joo Jung, Meriden, CT Peggy Wyman, Macomb, MO
Yelizaveta Masalimova, Stamford, CT Matthew Derezinski, Kirksville, MO
Kevin Haran, Oviedo, FL William Turner, Saint Louis, MO
Amanda Greive, Palmer, IL Robb Siverson, Fargo, ND
Aunia Kahn, Shiloh, IL Todd Brown, Hastings, NE
Sun Kyoung Kim, Carbondale, IL Clifford Blanchard, Morristown, NJ
Stephen Wolochowicz, South Bend, IN Ron Powell, Irvington, NJ
Michael Hernandez, Muncie, IN Bill Baker, Corrales, NM
Dan Koons, Liberal, KS Jim Shirey, Athen, OH
Susan Koons, Liberal, KS LaQuincy Reed, Norman, OK
Lisa Campbell, Liberal, KS Jessica Merry, Texhoma, OK
Mark Rohlf, Liberal, KS John Vinklarek, San Angelo, TX
Harry Longstreet, Bainbridge Island, WA