Avila Carries Seward Past Colby
KSCB News - January 8, 2013 7:10 am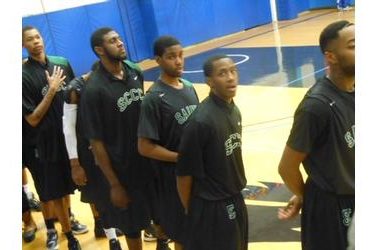 Seward County head basketball coach Bryan Zollinger got what he wanted last night. The Saints played with defensive intensity and gained a road win 77-68 Monday night in the Colby Community Building. Seward built a 19 point lead and were never really threatened in a game they led 43-33 at halftime.
Edson Avila scored a career high 24 points and pulled down 11 rebounds. Jabari Peters added 16 while Malcolm Hill-Bey scored 13 points with seven rebound and six assists. Kaheem Ransom scored 12 and Quentin Purtue scored 11 and grabbed seven rebounds.
Seward held the Trojans (9-7, 0-2) to 39 percent shooting while shooting 48 percent. The Saints were much better at the foul line going 19-28 for 68 percent after a 12-25 outing against Barton Saturday.
The Saints are 10-6 overall and 1-1 in the Jayhawk West. Seward hosts Pratt Wednesday night at 8 on B107.5 and kscbnews.net.
Mon. Jan. 7
D1#9 Barton def Dodge City 84-52*
D1#4 Hutchinson def Garden City 65-58*
Seward County def Colby 77-68*
Cloud County def Pratt 64-56*