Aviators Soar Past Bee Jays in Sweep
KSCB News - July 17, 2016 11:22 am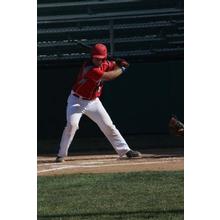 Liberal lost in two different ways at Brent Gould Field Saturday night.  They lost a 4-3 10 inning game in a scheduled seven inning game.  Then they lost 9-3 and trailed 7-0 after two.  Liberal has suddenly lost four in a rown and five of their last six.
In the first game,Blake Goldsberry pitched six strong innings with the wind blowing out.  He only allowed two runs while striking out five without a walk.  Haysville scored one in the first before the Bee Jays tied it in the third.  But they loaded the bases with no outs and only scored one.  The Aviators took a 2-1 lead in the fifth.  Liberal tied it in the bottom of the fifth as Blake Jenkins singled home Blake Brewster who had reached on an error.  Kyle Knauth lofted a homer to left center for his fifth of the season to give the BJ's a 3-2 lead.  But the Aviators scored one in the seventh to tie it against closer JB Olson.  Jakob Hernandez pitched three innings allowing a 10th inning run for the loss.  Liberal couldn't score the winning run despite placing the lead off man on in the seventh and 10th and two on in the eighth.  Liberal was out-hit 11-6.  The Bee Jays are 1-3 in extra inning games.
Haysville clobbered Liberal in game two scoring seven runs on seven hits in the second against starter Brent Bezio.  The bullpen pitched pretty well after that as newcomer Jacob Moreland went 1 and 1/3 without allowing an earned run.  Zach Hansen pitched one scoreless.  Derek Craft was sharp going two shutout innings.  Liberal had four errors which caused six unearned runs.  Cale O'Donnell was 1-2 with four RBI's.
Liberal falls into second place at 6-5 tied with Dodge City while Haysville is 7-4 and tied for first with Hays.
The same two teams play Sunday night at 7 with the Dugout Show at 6:45 on 1270 and kscbnews.net at Brent Gould Field.  National Beef is the buyout and will be giving away free hamburgers, t-shirts, baseballs, and key chains.  They will have many prizes to give away throughout the game as well.