Authorities Still Searching For Train Wreck Victims
KSCB News - June 25, 2012 10:49 am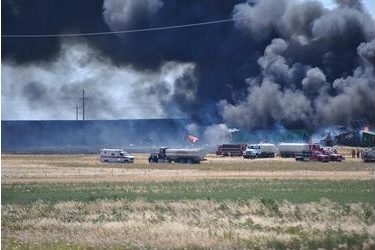 Authorities are searching near the
railroad tracks where two Union Pacific freight trains collided in
the Oklahoma Panhandle to see if several missing crewmembers might
have escaped injury.
Union Pacific spokeswoman Raquel Espinoza said the trains
crashed Sunday around 10:08 a.m. Sunday near Goodwell. She said a
two-person crew was aboard each train, and officials can't account
for two engineers and a conductor.
The other conductor appeared to be uninjured.
Oklahoma Highway Patrol trooper Betsy Randolph says law officers
were walking along either side of the tracks to see if the missing
crewmembers had jump from the trains.
Randolph says a blaze that erupted after the collision has been
contained, but continues to burn.
She says a firefighter was transported to a hospital for
treatment of a heat-related injury.