Austin Mefford Named Eighth Head Coach in Lady Saints History
Joe Denoyer - May 4, 2018 1:49 pm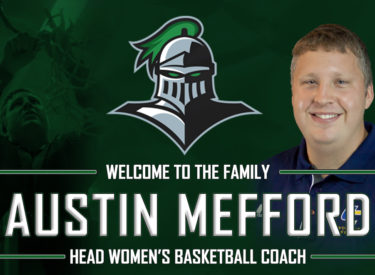 Seward County Community College Director of Athletics Roy Allen announced today that Austin Mefford will be the eighth head coach for the Lady Saints basketball program.  An introductory press conference will be held Monday, May 7 at 10:00 a.m. in the All-American Room on the Seward County campus.
"I am excited and honored to become part of the Seward County Community College family and would like to thank President [Ken] Trzaska and Mr. Allen for the opportunity," said Mefford. "This program has a rich tradition on the court and in the classroom, along with fantastic support that has been built over the last 25 years by Coach [Jim] Littell and Coach [Toby] Wynn.  I am excited for the challenge to continue to elevate this program's success and thrilled to get to meet the great community of Seward County."
Mefford recently completed his fifth season as the Assistant Coach at Gulf Coast State College in Panama City, Fla. coaching under Hall of Fame coach Ronnie Scovel. Over his five-year stint with the Commodores, he has helped lead them to three Panhandle Conference Championships, three Region 8 Championships, and back-to-back NJCAA National Championships in 2016 and 2017. Gulf Coast has amassed a 135-24 record during his time in Panama City.
The Commodores have seen success both on the court and in the classroom during Mefford's tenor.  Along with helping recruit and develop five NJCAA All-Americans and three NJCAA National Players of the Year, Gulf Coast State finished as an NJCAA Academic Top 25 Team in 2016 and 2017. While with Gulf Coast, 24 players signed to continue playing basketball at NCAA Division I schools, with 13 of those players signing with Power Five schools.
"We are extremely excited to have Austin on board with us here at Seward County," said Allen.  "He has a proven track record of success, which includes a pair of National Championships, and has had the opportunity to learn from some of the best in the business during his coaching career.  Austin understands the history of the program and understands what it has taken to get it to this point.  He is going be a great leader for the Lady Saints and I believe that all of our Seward County fans are going to enjoy getting to know him as he becomes a part of Saints Nation."
Prior to Gulf Coast State, he spent four seasons with Division I Coastal Carolina University as the Director of Basketball Operations and Assistant Women's Basketball Coach.  Over his career, he has worked for coaches such as Vernette Skeete, Alan LeForce, Cliff Ellis and Buzz Peterson. Mefford also had the honor of coaching the 2013 and 2017 NJCAA All-Star Game.
The Lady Saints are set to return three of their top four returning scorers, including 1st Team All-Conference selection Silvia Veloso, from a team that went 31-4 a season ago and finished in the top five at the NJCAA National Tournament while winning the Region VI Tournament and their second consecutive Jayhawk West Championship.