Aubrey Wilson Named New SCCC Head Volleyball Coach
Joe Denoyer - February 13, 2023 1:31 pm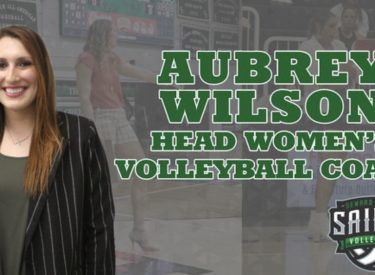 LIBERAL, Kan. – Seward County Community College is excited to announce Aubrey Wilson as the tenth head coach of the Lady Saints Volleyball program. Wilson served as the assistant coach during the 2022 season as Seward County went on to an NJCAA national tournament appearance, a Region VI title, and a Plains District championship. As an assistant coach last season, the Lady Saints were 31-8 and went 14-2 in conference action.
"I am super excited and grateful for the opportunity to continue to carry on such a strong volleyball tradition at Seward County." Wilson stated as she prepares for the 2023 season, "The constant support from the community and school just adds to the excitement of staying here. I can't thank Dan, Brad, and the rest of the Seward County Administration for this opportunity and all of their support."
As a former KJCCC student-athlete, Wilson knows this conference well, "This conference is such a respected conference, and it is very humbling to be able to take over this program and also coach in the conference that I played in."
The Lady Saints will look to rebuild from a sophomore-heavy roster last season as they look to return three freshmen from the 2022 roster. Wilson discussed the state of the program, "Next year, we will be replacing 11 players off of a nationally competitive team, and I am looking forward to bringing in a new set of recruits to join our 3 returners to continue to build onto the successful tradition at Seward County."
Wilson joined Seward County last summer after three years with Henderson State University (2019-22) as she was named the lead assistant coach in the summer of 2021. First hired as a graduate assistant, Wilson helped the Reddies to a 48-27 overall record in her three seasons in Arkadelphia, Arkansas.
The Bennington, Kansas native competed at Hutchinson Community College (2014-2016), received first-team All-American honors in the fall of 2015, was named KJCCC player of the year (2015), and led the Blue Dragons to a ninth-place finish at Nationals. After graduating with an associate's degree, Wilson continued her career at Missouri Baptist University, where she received honorable mention all-conference honors. Wilson graduated with a bachelor's degree in business administration in 2019 and received a master's degree in sports administration from Henderson State (2021).
Wilson has her mind set on the program's future in her first year and her expectations for the remainder of the spring season, "The girls have been working super hard this offseason and staying committed. I have been recruiting and preparing a team for next season."
When asked about her expectations for her programs, Wilson stated, "I am looking forward to building a culture with academic success and athletic excellence with girls of high character that want to impact the community in a positive way."
The Lady Saints will look to build a spring schedule as they continue their spring workouts under Wilson's guidance. We are excited to have Wilson lead the volleyball program and continue the Lady Saints traditions here in Liberal, Kansas.