ATV Accident Claims Beaver OK Man
Joe Denoyer - August 3, 2023 8:02 am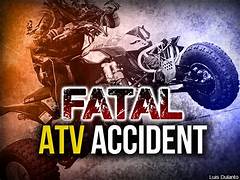 A fatality accident occurred Wednesday August 2nd at approximately 7:01 pm on OK Highway 3 near Hollow N1330, approximately 13 miles southwest of Beaver, OK.
A 2021 Polaris Ranger driven by Cody L Frantz, 25, of Beaver, Ok was south bound on County Road 133 (Hollow 1330) and ran a stop sign striking a 2017 GMC Sierra pick up being driven by Frank E Eldridge age 53, of Edmond, OK, on the drivers' side rear quarter panel. The Ranger rolled 2 ¼ times landing on the drivers' door. Frantz was ejected, landing 5 feet from the ATV. He was pronounced dead at the scene from massive head, facial, and chest trauma, by Beaver EMS.
A passenger on the ATV, Cole J Cathcart, 21, of Stillwater, OK. was transported to Southwest Medical Center in Liberal where he was treated for broken ribs and released.
Eldridge was not injured.
W