Ashley/Borges Honored by ITA
Brock Kappelmann - May 16, 2017 6:18 am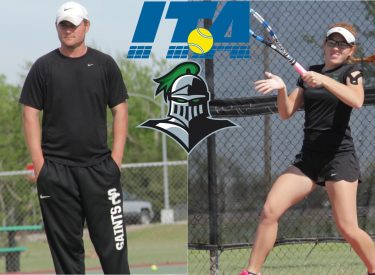 Seward County's Chase Ashley and Martina Borges were honored by the Intercollegiate Tennis Association on Wednesday as Ashley was named the ITA Region III Assistant Coach of the Year while Borges was named the Region III Player to Watch at the National Tournament Banquet.
Ashley helped Head Coach Greg Owen lead the Lady Saints to a record breaking year in 2017 as Seward went 14-7 on the year while winning the Jayhawk Conference and Region VI Tournament Championships for the first time in program history before going onto finish 5th at the NJCAA National Tournament which is also a program best. Ashley watched as five of six Seward singles players and all three doubles teams reached at least the quarterfinals of the National Championships as the Lady Saints racked up a record 30 points at the big dance.
Borges collected 15 wins across five different singles lines for Seward in 2017 and also picked up four wins on the doubles front. Playing primarily at #5 in the Seward lineup, Borges was 7-4 for the Lady Saints while also going 3-1 at #3 and 2-1 at both #4 and #6 singles. She won the Region VI Championship at line 5 with a come from behind three set victory over Kasey Coker of Cowley and received a bye in the first round of the NJCAA National Tournament as a seeded player before finishing 5th.
In other Region III awards, Gary Bourgeious of Mississippi Gulf Coast was named the Coach of the Year, Barton's Neus Torregrosa was named the Rookie of the Year, and Cowley's Sarah Frendo was named the Sophomore Player of the Year.
Roy Allen