Ashley Earns 2nd Pitcher of the Week Award
Joe Denoyer - March 21, 2017 12:50 pm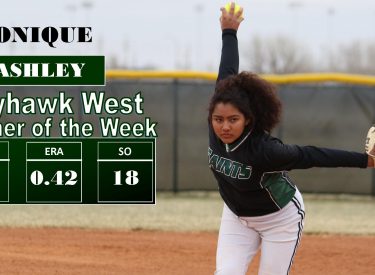 Toeing the rubber three times for the Lady Saints on their annual Spring Break trip to Arizona, Seward County freshman Monique Ashley has been named the Jayhawk West Pitcher of the Week for the second time in three weeks in a league release Tuesday. 
Ashley was solid in three appearances for the Lady Saints in Arizona, posting a 0.42 ERA on the week, allowing just one earned run in 16 2/3 innings pitched while striking out 18 and walking just two.  Monday against Scottsdale she fired a complete game three hitter, striking out eight in a 2-1 Seward win.  Thursday she entered out of the Lady Saints bullpen to spin 3 1/3 scoreless innings while punching out six to earn her 16th win of the season.  Friday she was nearly flawless against #7 Central Arizona, allowing just two hits into the 7th inning before a late Vaquero comeback beat Seward 2-1. 
Ashley and the Lady Saints return to the diamond on Wednesday when they head to Great Bend to take on the Barton Cougars in conference action before returning home to play Dodge City Saturday at Lady Saints Field in Liberal.