Artesian Valley Health System Welcomes Dr. John Powers
Steven Rains - July 9, 2019 1:27 pm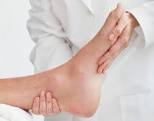 Meade, KS – Artesian Valley Health System (AVHS) is pleased to welcome John P. Powers, DPM, FACFAS,
FAENS to our team of full-time providers.
Dr. Powers is a Board-Certified Foot and Ankle Surgeon with a Doctor of Podiatric Medicine degree from
the Ohio College of Podiatric Medicine. He has been practicing for eighteen years and has obtained the
status of Fellow of the American College of Foot and Ankle Surgeons (FACFAS) and Fellow of the
Association of Extremity Nerve Surgeons (FAENS).
Dr. Powers grew up in rural America and after living in Tucson, Arizona for the past eighteen years, he's
looking forward to getting back to a rural community. "Meade is a lot like the towns my wife, Cheryl,
and I grew up in. I grew up in a small town in Ohio, and I just really enjoyed living out in the country and
as a kid I was involved in 4-H. Tucson has over a million people and it's really hot. We've been there for
eighteen years and now that our kids are grown up, we wanted to head back east towards family. Our
son is going into the Navy soon and our daughter is finishing her degree in Art. I've heard that people
are really friendly here and it's a laid-back community, no hustle and bustle like the city, so we're
excited to move here."
As a freshman in high school John earned his Eagle Scout and as soon as he was old enough, he enlisted
in the Ohio Army National Guard. During his enlistment he served in the US, Saudi Arabia, Germany and
Honduras. John shares, "After being assigned as a combat medic in my military police unit during the
Gulf War, I developed a strong interest in medicine. The complexity of the foot and ankle led me to train
in this field. I enjoy the challenge podiatry presents – what works for one patient, may not work for
others. It's very rewarding to find the right treatment for each individual patient and bring relief from
pain a patient may have been experiencing for years."
Dr. Powers treats all ages of patients with any problems they are experiencing below the knee. He sees
all foot and ankle problems, injuries or traumas caused by diabetes, medications, infections, diseases,
vascular or nerve problems, pediatric and adult sports injuries, as well as chronic foot pain or problems
that develop with age.
Dr. Powers has done a lot of work in treating neuropathy through medical and surgical treatments which
includes nerve decompression surgery. He has a passion for improving the quality of life for his patients
and has seen how treatments are life changing for them.
AVHS is thrilled to have Dr. Powers as part of the team. He will tentatively begin seeing patients
September 1 st as AVHS finalizes all insurance credentialing. Dr. Powers will see patients at the Meade
and Plains Rural Health Clinics, Meade District Hospital as well as making visits to Lone Tree Retirement
Center. To schedule an appointment with him, please call the Meade Clinic at (620) 873-2112 or Plains
Clinic at (620) 563-9313.
Artesian Valley Health System is a local nonprofit organization in Meade, KS and serves the health care
needs of the surrounding communities through Meade District Hospital, Meade and Plains Rural Health
Clinics, and Lone Tree Retirement Center.