Arkalon Fire Update
Joe Denoyer - March 24, 2017 11:37 am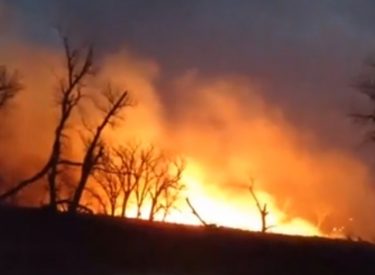 Seward County Fire Rescue was dispatched at approximately 5pm to a grass fire in the area of Road P and Highway 54.
Units were already in the area responding to another fire and were redirected. A immediate need request for mutual aid was transmitted to the Kansas State office of Emergency Management.
Haskell, Meade, Stanton, Clark, Ford, Stevens, Gray, Wichita, Kearny Counties along with Turpin fire respond to our request. Approximately 35 fire units with about 62 firefighters arrived and starting working the fire.
Numerous local farmers arrived with discs as well as Seward County Road and Bridge road graders. Seward County Sheriff's Office assisted with evacuations. Seward County Emergency Management assisted with resources and coordination.
Heavy rain occurred and assisted with extinguishing the fire. Mutual aid companies were released and a majority of them were directed to Perryton Texas to assist with another wildfire.
Seward County has crews continuing to monitor the situation in the river bottom throughout the night and will continue to be on scene throughout the day Friday.
Estimates have the fire at a mile wide and burned about 4 miles approximately 2,500 acres. Cause is under investigation.
The Fire department can not stress enough for residents to clear 100 x 100 feet around their homes to provide a defensible space. They also can not stress enough during extreme fire danger that extra caution needs to be observed when working near or around dry grass lands.
A Huge thank you to all of the local farmers who responded to help there neighbors. Especially Pastor Jack Jacob and company for putting meals together for firefighters. Seward County sent additional meals to Perryton Crews.