Arenivas and Zarate Win Local Youth Entrepreneurship Challenge
Joe Denoyer - March 28, 2022 4:08 pm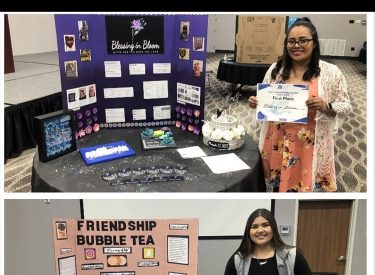 The Seward County Development Corporation hosted Liberal's second Youth Entrepreneurship Challenge (YEC) on Monday, March 28 at the Liberal Conference Center. This competition was created by Network Kansas and serves to offer students the opportunity to develop and present a business idea.
The event included 40 individual businesses designed by students in the entrepreneurship course at Liberal High School. Students were required to write an executive summary of their business plan, create a tradeshow booth, and present their business idea to a panel of judges. Due to the large number of entries, Liberal could host two separate competitions: one in the morning and one in the afternoon.
Marissa Arenivas won the morning session with her business "Friendship Bubble Tea." Her business would be a local Milk Tea House that provides an inviting atmosphere for people to enjoy the drinks and socialize with friends.
Yenifer Zarate won the afternoon session with her business "Blessing in Bloom." Zarate designs and creates handmade custom gifts and décor.
Eli Svaty, host of the event, thought it was a great success. "Each time we host an event like this, I'm impressed by the ideas of the students and the leadership of their instructor, Mrs. Ebeling. This year, both Arenivas and Zarate are actively engaged in their businesses already and have successfully developed a local customer base. That experience showed in their tradeshow booths and their four-minute presentations."
Three other prizes were awarded at the morning and afternoon events. In the morning session, second place went to Coraima Chavira for her business "CC's Arena." Third place went to Jalyssa Head for her business "Jay's Cafe." The final award was the People's Choice award based on votes from community members who visited the trade show. Winner of the People's Choice award was Karel Mancia and her business "Cowgirl Boutique."
In the afternoon session, second place went to Gumaro Gonzalez for his business "GDP." Third place went to Brooke Nelson for her business "Brooke's Closet." The People's Choice award went to Alana King for her business "Roots Art Gallery."
Arenivas and Zarate are now qualified for the statewide Kansas Entrepreneurship Challenge event hosted by Kansas State University. This year, the event will take place April 28 in the K-State Student Union.