Area Teams Get Ready for Friday
KSCB News - November 8, 2010 12:00 am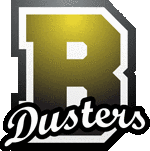 Several teams in the listening area will go to practice this week just as they have been doing since August. In Kansas, the 4A Ulysses Tigers have been nothing short of dominant during their first two rounds. The Tigers are 9-2 and travel to 9-2 Holton to play Friday night after a 47-22 win at Hesston Saturday. Josh Jarnagin rushed for three touchdowns and caught two from quarterback Braden Langston in the win. Ulysses led 47-8 after three quarters and amassed 478 yards with 335 on the ground and 143 through the air with Langston going 7-10. The other 4A matchups pit 10-0 Buhler at 10-0 Topeka Hayden, 10-1 Baldwin at 8-3 Paoli, and 7-4 DeSoto at 10-0 Louisburg.
In 2A, Meade crushed Atwood 47-7 Friday night setting up another trip to Lacrosse Friday night to play the 10-0 Leopards. Stanton County went to Ellis and won 52-7. The 9-1 Trojans play at 5-5 Ell Saline Friday night. The other 2A matchups pit 9-1 defending state champ Centrailia at 9-1 Olpe. St. Mary's (5-5) will play at 10-0 Pittsburg Colgan.
In Oklahoma, the OSSAA announced playoff pairings on Saturday. In class A, the 9-1 Beaver Dusters finished as runner up in District 1 and will host the 7-3 Crescent Tigers Friday at 7:30 on 102.7. The 6-4 Turpin Cardinals were the fourth place team from the district and travel to play the 9-1 Cashion Wildcats Friday night.
In Class C, 7-3 Corn Bible travels to Forgan to play the 9-1 Bulldogs at Lepp Field in Forgan.