Area Small Businesses Receive Small Business Working Capitol Grants
Joe Denoyer - November 16, 2020 4:12 pm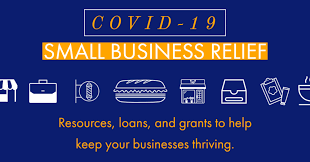 Governor Laura Kelly today announced that nearly 2,000 Kansas small businesses affected by the COVID-19 pandemic will receive a share of $37.5 million in Small Business Working Capital (SBWC) grants.
Kansas businesses with fewer than 500 employees were eligible to apply for SBWC grant funding, made available by Governor Kelly's Strengthening People and Revitalizing Kansas (SPARK) Taskforce through the federal CARES Act.
Grant funds can be used to pay working capital expenses such as payroll, insurance, rent, mortgage payments, utilities, inventory, and more.
The SPARK Taskforce and the Kansas Department of Commerce will maintain the Small Business Working Capital grant program, as well as PPE Procurement and Connectivity Emergency Response Grant programs, should more federal CARES Act funding become available.
The online application process for several other SPARK grant programs remain active. Details are available at www.kansascommerce.gov/covidrelief.
Area Businesses to receive funding include:
Grant County
Borderline, Inc.$20,000.00
Hometown Barbershop and Salon $12,000.00
Ulysses Inn LLC$20,000.00
Haskell County
Chaffin Ashley$10,000.00
RV Contract Pumping $10,000.00
Shayli Sherman$3,000.00
Meade County
7L Hunting, LLC$15,000.00
Hairport LLC$6,700.00
HD Land Services, LLC$20,000.00
Meade County News Inc$17,500.00
Medrano's Restaurant$20,000.00
Plaza Professiona Credit Burea, Inc.$20,000.00
Salon 54 $20,000.00
Shear Simplicity $8,000.00
Todd and Brenda Lewis$8,800.00
Morton County
Doric Theatre LLC$25,000.00
High Maintenance Salon$20,000.00
Seward County
Bradley J Rachow DDS LLC$20,000.00
CIMARRON ELECTRIC, LLC$20,000.00
Divine hair salon$20,000.00
Kansas Lodging LLC$20,000.00
KERR WELL SERVICE$20,000.00
L&D Oilfield Service, Inc. $20,000.00
Olivas Auto Center LLC$20,000.00
Poor Boys Instrument Inc.$20,000.00
SKWEBER Enterprises,LLC$20,000.00
Terry$20,000.00