Area Food Pantries Receive Donations from TCEC Employees
Joe Denoyer - December 8, 2020 3:09 pm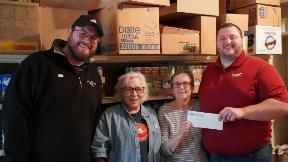 Concern for community is one of the universal cooperative principles TCEC has adopted as its own. TCEC employees gave to area food pantries in November 2020. The cooperative matched donations for a total contribution of $3500 distributed to the following places.
Beaver County, Oklahoma
Beaver Ministerial Alliance, Beaver
Families Helping Families, Beaver
Turpin Community Food Pantry, Turpin
Cimarron County, Oklahoma
Cimarron County Food Bank, Boise City
Morton County, Kansas
Texas County, Oklahoma
Hooker Fights Hunger, Hooker
Loaves and Fishes, Guymon
Texhoma Ministerial Alliance, Texhoma
TCEC employees are your friends and neighbors. Giving back to the communities we serve and live in is one of the ways we look out for each other.