Antique Tractor Show, Smokes and Sweet Showdown Huge Success
Joe Denoyer - August 29, 2020 3:38 pm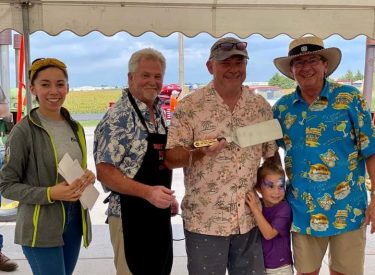 The Third Annual Keating Tractor Antique Tractor Show and the Seward County United Way Smokes and Sweets Showdown was held on Saturday, August 29th from 9-2. The day began with 6 Veterans receiving their Quilts of Valor from the Needle and Friends Quilt Guild.
KSCB and the Legend hosted the Truck, Bucks, and Cornhole Tour with Rick and Robbie Lanning winning the 1st place $100 prize and the right to compete in the Grand Finale Tournament.
45 Antique tractors, cars, and implements were on display with activities for the kids that included bounce houses, barrel train rides, face painting by the Baker Arts Center, and a corn hole dig.
Several contestants competed in the United Way Smokes and Sweets Showdown while the large crowd in attendance was able to sample the delectable foods by buying a tasting kit with the proceeds going to the Agencies served by the United Way. Cash prizes were awarded to the winners.
In the Pie Category, Larry Jeffus took 1st place. The Cookie winner was Kelsey Flowers, while Jody Richesen win the Cake category.
In the Meat category, Justin Alexander came in 1st, the Little Old Men team of Jeff Mitchell, Kelly Rotolo, and Greg Wells won 1st in the Appetizer category.
People's Choice winners were:
Meats and Appetizers:
3rd Justin Alexander
2nd Chuck Erickson
1st Little Old Men
Sweets:
3rd Lainey Cox
2nd Gayle Claggett
1st Larry Jeffus
Oklahoma Smoke BBQ and Ice Lickers were also on site selling food and treats.