Another Sweep for Seward Men's Tennis
KSCB News - March 11, 2015 6:31 am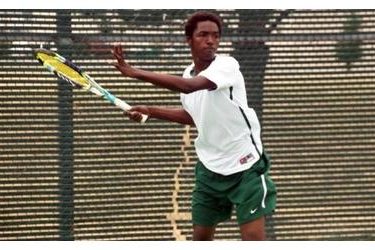 The #6 Seward County Saints continued a red hot streak by winning their second consecutive match in sweeping fashion, hammering Southwestern 9-0 Tuesday afternoon to move to 4-0 on the season.
Doubles action got things going in Winfield Tuesday afternoon where 7th ranked Ronzai Saurombe and Vitor Galvao picked up an easy 8-2 win over Michael Bond and Devon Leone in #1 doubles to give Seward an early 1-0 lead. Tare Mariga and Paul Arslanian continued the Saints success at #3 doubles, knocking off Chris Cane and Braden Baker 8-4 to put Seward up 2-0. The doubles match of the day came at #2 where Felipe Casares and Alvaro Regnifo teamed up for the Saints to earn an 8-6 win against Johnas Joudrey and Logan Bevis to give Seward a clean sweep in doubles play.
Arslanian earned the Saints first singles point with a 6-0, 6-0 drubbing of Chris Lane in #6 action and Saurombe clinched the match for the Saints with a 6-0, 6-1 win over Joudrey at #1 singles to make it 5-0 Seward. The Saints continued to dominate the Moundbuilders at every spot, with Southwestern's closest match coming in a 6-1, 6-3 Casares beating of Bevis as they took the points down the board to win their second straight match 9-0.
The Saints improve to a sparkling 4-0 on the season and have lost just 6 of their 36 total matches played on the year. Southwestern drops to 2-3 on the year with the loss.
Seward will be idle for 11 days before taking the court again on March 21st when they host Tabor in their 2015 home opener.
#6 SEWARD COUNTY/SOUTHWESTERN MATCH RESULTS<http://www.sewardsaints.com/sports/mten/2014-15/files/SewardSouthwesternM.pdf>
The 5th ranked Seward County Lady Saints struggles as a team continued Tuesday afternoon in Winfield, Kansas as for the second straight match, their only wins came from their top two players Paula Lopez and Paula Coyos as they fell 6-3 to Southwestern College.
Once again it was no contest at #1 doubles where Paula Lopez and Paula Coyos, the 2nd ranked duo in the country, had little trouble with Sydney Shields and Nye Cheatnam, downing the Moundbuilders top pair 8-1 to pick up Seward's first point of the day. Southwestern responded though, earning 8-1 and 8-2 wins at #2 and #3 doubles respectively and the Builders headed to singles play up 2-1.
Lopez and Coyos took care of business in singles play as well, Lopez winning 6-1, 6-1 at #1 over Morgan Hughes while Coyos defended her #10 national ranking with a dominating 6-0, 6-1 win over Shields at #2 to give Seward the lead back 3-2. That lead would be short-lived however as the Lady Saints other four players in their lineup couldn't mount much of a fight against the Builders. Seward managed just four games total at #4, #5, and #6 singles, losing each one of those matches while Kellyn Peters put up a battle at #3 singles before losing 7-6 (6), 6-3 as Southwestern went on to take the match 6-3.
The Lady Saints drop their second straight match by a count of 6-3 in which Lopez and Coyos earned their only wins as they fall to 1-3 on the year. Southwestern wins their fourth straight after an 0-2 start and is now 4-2 on the year.
Seward will look to get things going back in the right direction before hosting their 2015 home opener on Saturday, March 21st against Tabor in Liberal.
#5 SEWARD COUNTY/SOUTHWESTERN MATCH RESULTS<http://www.sewardsaints.com/sports/wten/2014-15/files/SewardSouthwesternW.pdf>
Roy Allen