Another Sunday Struggle for Saints
Brock Kappelmann - April 1, 2019 7:27 am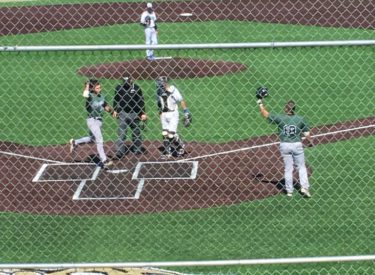 The Barton Cougars regained first place in the Jayhawk West by sweeping the Seward County Saints 7-6 and 8-2 Sunday afternoon at Lawson-Biggs Field in Great Bend.  The Saints fall to 1-5 in conference games on Sunday and 3-8 in Sunday games.   Seward has struggled recently in Great Bend losing 11 of their last 12 at Lawson Biggs Field.
Seward struggled to throw strikes in game one.  Barton scored two in the first.  After Seward's Ryan Giberson struck out the first two of the second, he proceeded to walk the next three and then bean one setting the table for a four run inning and a 6-0 lead.  The Saints battled back with three in the third.  Benny Ayala singled home a run and Cayde Ward singled home two runs.  The Cougars plated an insurance run in the fifth for a 7-3 lead.  The Saints rallied in the seventh.  After back to back singles by Wyatt Grant and Kason Haggard followed by a Barton error, the Saints had loaded the bases with no outs.  AJ Folds doubled to right to drive home two runs.  Seward had runners on second and third with no outs trailing 7-5.  Ward grounded out to score a run to lead 7-6.  But could not tie it.  Chandler Poell pitched well going four innings in relief allowing one run.
In game two, Benny Ayala launched a towering homer to left for his sixth of the season.  That gave Seward a 2-0 lead.  Seward's defense was faulty in this loss allowing three unearned runs in the first.  Barton added two in the second for a 5-2 lead.  Barton tacked on an unearned run on two errors in the seventh and two in the eighth.  Braedon Gould gave the Saints a solid start with 5 and 2/3 innings allowing two earned runs.  Ryan Thomas went 1 and 2/3 allowing no earned runs.
Seward splits the Barton series and falls to 16-16 and 8-8 in the Jayhawk West. Barton is 22-9 and 11-5 and sits alone in first place.  The Saints host Clarendon at 3 on Tuesday at Brent Gould Field.  The next broadcast is Thursday at 3 at Dodge City on kscbnews.net.  Game two will be on 1270 as well.
Game 1 audio:
Game 2 audio, first five innings:
Game 2 audio, sixth inning to end and postgame: