Another Collins Claims Fair Queen Crown
KSCB News - July 30, 2012 9:21 am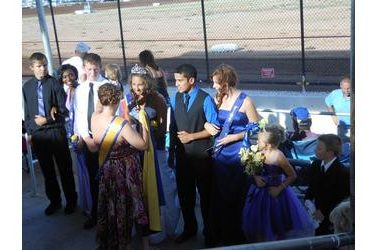 Two years after Amanda Collins was crowned 5 State Fair Queen, younger sister Alicia wins the fair queen crown. Olivia Robinson was the first runner up and Keyana Carter was the second runner up. Last year's queen Alyssa Kirk crowned Collins Sunday night at the fairgrounds just before the races.
The male escorts were Dustin Friederich, Cole Wall, and Erving Altamirano.
The trio of queen candidates raised over 10 thousand dollars for the Soroptimist Club of Liberal which will go toward scholarships and projects. Collins raised over seven thousand dollars.
Brooks Kappelmann was the crown bearer and Teegan Cullison was the flower girl.