Angels Run Rule Bee Jays
Brock Kappelmann - July 13, 2023 11:13 pm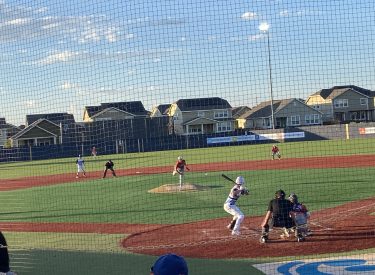 For trhe second time this season the Liberal Bee Jays have lost two games in a row.  It happened June 9 and 10 at Gering, Nebraska and happened on Liberal's current Colorado road trip.  After an 11-9 loss at the Colorado Rough Riders on Wednesday, the Bee Jays fell to the Gameday Angels 13-3 in eight innings Thursday night at Double Angel Park in Parker.   Liberal's pitching is struggling on the road trip allowing double digit runs for the third time on the trip.  BJ pitching walked 13 hitters.
The game began with an inauspicious beginning as the BJ starter Tyler Hankins was injured during warm ups.  The Angels scored two in the first and one in the second.  Liberal scored two unearned runs on a dropped line drive in right in the second.  The Bee Jays tied the game 3-3 with  a run in the fourth.  Ethan Caulder nd Owen May led off the inning with singles.  Silas Shafer singled home a run to tie the game.  But the Angels scored two runs in the fifth.  One run was unearned.  The Angels scored seven in the sixth.  Liberal walked six while the Angels hit three doubles in the inning.  The Angels scored one in the eighth after two BJ walks and a HBP.
The Angels out-hit the Bee Jays 10-8 and had six doubles.  Liberal committed three errors and the Angels had two.  The Angels are 9-10 overall and 7-7 in the Rocky Mountain.  Liberal is 18-7 overall and 11-4 in the RMBL.  The same two teams meet Friday night at 7:30 central time with pre-game at 7:15 on 1270 and 92.3.