Andrew Johnson Named Head Band Director at USD 480
Joe Denoyer - May 10, 2022 7:40 am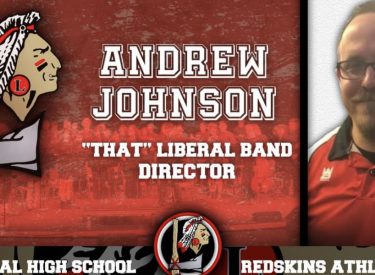 "We are happy to announce that Andrew Johnson has accepted the Band Director position at Liberal High School. His background and knowledge of LHS as well as his commitment to the community will help him excel in this role. I have no doubt that he will represent our band program and LHS well in his new position. We want to thank Jacob Wright for his commitment to the band and wish him the best of luck in his future endeavors."- Monica Vega, Assistant Activities Director.
Johnson is ready to hit the ground running and has immediate goals for "That" Liberal Band. One of his main goals is to increase the band's visibility within the community. He is ready to serve and perform as much as they can and is open to any community requests.
"Johnson is well known for his love of music and his ability to build relationships with students. The transition from middle school to high school will help increase participation in the band program. I am looking forward to Mr. Johnson leading the band program moving forward." – Kerri Miles, Activities Director
Johnson comes to Liberal High School with a wide range of experience in music education. He attended Radford University (Virginia) in 2012 and obtained a Bachelor's in Music Education. He has been with the district since 2015 and has served as the Eisenhower Middle School Band Director for the last three years. While attending Liberal High School, Johnson was a member of "That" Liberal Band all four years. Johnson has also been active at the high school as a bowling coach since 2015.
"I am excited to once again teach at the school I attended, where I discovered my passion for music. I grew up in Liberal, where I was and still am a Warrior and Redskin. I am excited to pick up where Mr. Wright and Mr. Hogan are leaving off this year and continue to build the musicianship of the program. Great progress has been made in that arena and we want to keep that going! Jacob Wright has done a wonderful job leading our program for the past three years and he is leaving some very large shoes to fill. I also look forward to working more closely with Benjamin Hogan, a dear friend of 14 years." – Andrew Johnson.
Mr. Johnson will be available for a meet and greet directly after the USD 480 band concerts this week. He will be available Thursday, May 12 at 7:30PM and Friday, May 13 at 8:00PM in the band room at Liberal High School.