Allen Steps Down as Athletic Director at Seward
Brock Kappelmann - July 18, 2018 12:57 pm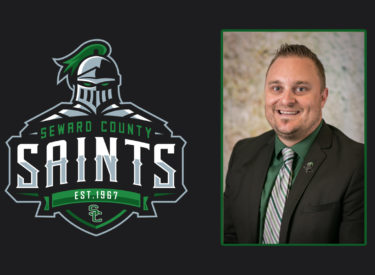 Seward's athletic department continues it's off season overhaul.  After coaching changes in all of Seward's athletic programs, now the head of the department is leaving.  Roy Allen steps down after one year as athletic director for a job at division one Florida Gulf Coast University.  He will return to his SCCC roots and get back into the sports information business for FGCU baseball, girls soccer, and tennis.  Allen has been at Seward 10 years with nine coming as sports information director and one as athletic director.  Allen was assistant athletic director under Galen McSpadden for six years.  His announcement comes a little over a week after his wife and three year SCCC head volleyball coach Thais Baziquetto-Allen took the head coaching job at Florida Southwestern  College.  Here is more on Allen from sewardsaints.com.
Roy Allen took over as Interim Director of Athletics in May 2017. He was the Sports Information Director for Seward County for 9 years before becoming the Director of Athletics.
In his first year in charge, the Seward County atheltic department saw great success, winning four Jayhawk Conference Championships (Volleyball, Women's Basketball, Men's Tennis, Women's Tennis) and three Region VI Championships (WBB, MTEN, WTEN), while two more teams (Softball; Volleyball) reached the Region VI Championship game.  The Saints and Lady Saints also produced 27 All-Conference athletes and five NJCAA All-Americans in 2017-18.
An active member of CoSIDA (College Sports Information Directors of America) for nine years, Allen served for four years on the publication awards committee as well as voting on a number of different regional and national awards that the group gives out.  In 2014 he became the first ever President of 2YSIDA (Two-Year Sports Information Directors of America) and held that role until he was announced as the Saints Athletic Director in May of 2017, he also served on CDMAC (College Division Management Advisory Committee) for that stretch.
In 2017 Allen was recognized by the American Volleyball Coaches Association as the National winner of the Grant Berger Media Award given to the two year SID who members felt displayed the most dedication to the promotion of the sport.  In 2013, Allen recieved his first major national award, netting CoSIDA's 'Second in the Nation' award for his work on the Saints Baseball Media Guide.
As SID in 2011 Allen implemented live video streaming of all Seward County home events for supporters of the programs to enjoy at home and in it's first year, Saints and Lady Saints games were watched by nearly 10,000 unique viewers from around the globe.  He often works alongside award winning broadcaster Brock Kapplemann during Saints and Lady Saints radio broadcasts and has also worked as the play-by-play man for Seward basketball, baseball, and softball games.
Allen has been a key part of the Jayhawk Conference's change towards a uniform Player of the Week system.  He served as the chair for the Volleyball, Softball, and Men's Basketball committes and also served on the Baseball, Football, and Soccer committees.
Allen helped bring a number of firsts to the Seward County Athletics Department during the 2012-2013 season.  His Baseball Media Guide was ranked second in the nation by CoSIDA, marking the first time a Seward guide had achieved national recognition.  He also helped promote a pair of student-athletes (Johnny Griffith & Stephanie Mark) to Capital One Academic All-American awards, again, the first time in school history that the Saints had placed a student-athlete on the list.  Both Griffith and Mark were the only junior college student-athletes in the country to receive the awards.
In nine years at Seward County he helped promote over 200 All-Conference athletes, 140 All-Region performers, 220 KJCCC Player of the Week's, 35 NJCAA National Player of the Week's, and 25 All-American's.
As a student-athlete, Allen made three stops during his collegiate playing career.  As a freshman he played for fellow Jayhawk Conference member Colby.  As a sophomore he transferred to Lamar where he helped the Lopes to a 50-12 record and a 35-1 record during an Empire Conference Championship season.  He then transferred to the University of Northern Colorado where he pitched two season for the Bears.  He helped UNC to two straight Division I Independent Championships and was on the mound in his final collegiate game as the Bears defeated North Dakota State to capture the title in 2006.  Northern Colorado defeated #2 Nebraska, #7 Arkansas, #19 Wichita State, and #24 Kansas during Allen's stint in Greeley.  Allen finished his senior season at UNC with the lowest ERA at the school since the 1986 season.
Following his playing career, Allen joined the coaching ranks at his alma mater.   He helped guide the Bears in 2006-2007 and was a member of the Colorado Sox summer baseball coaching staff in 2007 and then again in 2009.  In 2009 Allen coaches six former Saints to an 11th place finish at the NBC World Series.  Upon completion of his Sox season, Allen joined the Liberal BeeJays coaching staff and was a part of their 3rd place National finish.   During his three seasons of coaching, Allen has coached 13 players that have signed professional baseball contracts.  He currently works as the Director of Baseball Operations for the BeeJays, assembling a team finished just two wins short of a National Championship in 2015.
Originally from Lakewood, Colorado, Allen graduated from Lamar Community College earning an Associate's Degree before moving on and graduating from the University of Northern Colorado in Greeley Colorado, earning a Bachelor's Degree in Journalism with an emphasis in Public Relations and minors in Communications and Economics.  He is currently an active member of the Big Brothers Big Sisters of Southwest Kansas and is a proud Big Brother to Max.  He and his wife Thais, who is the Head Volleyball Coach for the Lady Saints, were married June 23, 2012.